The choice of what higher education to pursue is crucial in the lives of young people, as it determines their professional future. According to a survey conducted by the Graduate Management Admission Council, corporate recruiters anticipate a high demand for business school graduates. 
As it does every year, the Graduate Management Admission Council, a global association of leading graduate business schools, publishes a survey of employers to gain insight into current market trends.
This year's study reveals that corporate recruiters anticipate strong demand for business school graduates. Indeed, nine out of ten of those surveyed expect that demand will increase, or remain stable, over the next five years. Similarly, 37 percent of recruiters expect demand to rebound in the post-pandemic era, up from 30 percent last year.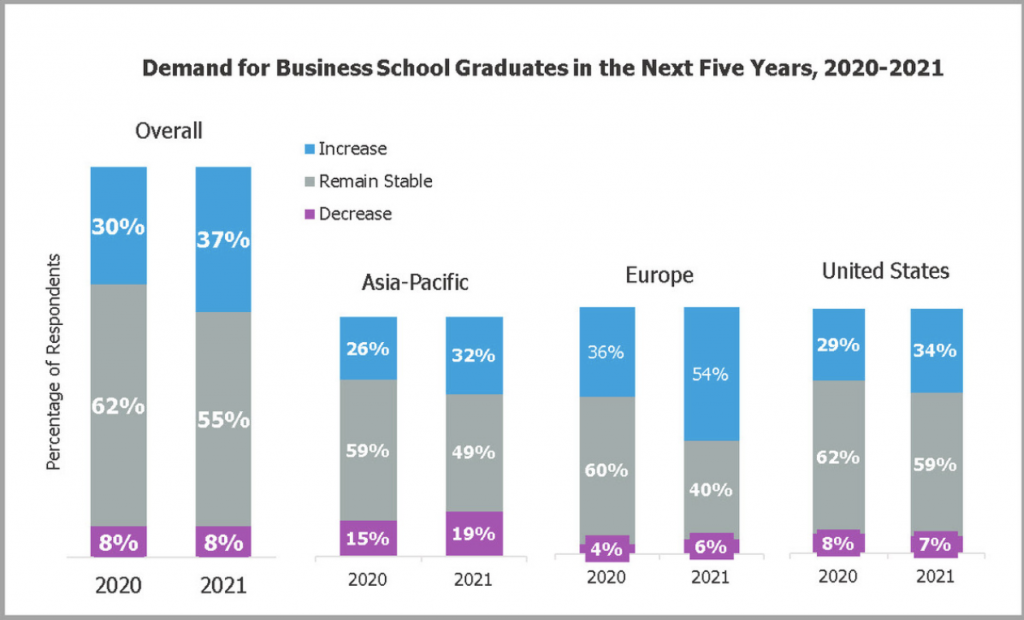 Demand in business schools for the next 5 years, GMAC, 2021.
A sector that recruits
As companies slowly rebuild during the Covid-19 health crisis and rebuild their workforces, they need professionals armed with the knowledge and skills to match the position they want to fill. 
This demand appears to be particularly high for business school graduates: "In just over a decade, the proportion of surveyed recruiters considering hiring MBA graduates has increased significantly, a trend that is particularly notable in Europe, where the percentage has risen from 44% in 2010 to nearly double (86%) in 2021," says Sangeet Chowfla, president and CEO of GMAC. 
Salary as an incentive
In addition to the career sector opportunities that students are targeting, compensation can also be a motivating factor. Before Covid-19 hit in 2020, the average annual salary for an MBA graduate had reached $115,000. A sum that dropped to $105,000, three months after the virus began to spread. However, the pay rate is expected to return to its pre-pandemic level in 2021. 
Finally, it is important to note that the average salary of MBA graduates is 77% higher than that of Bachelor's degree holders, which is $65,000 per year.
This important remuneration is therefore proof that investing in an MBA within a business school is really beneficial, since the degree ensures a good professional integration, an advantageous salary and considerable evolution perspectives.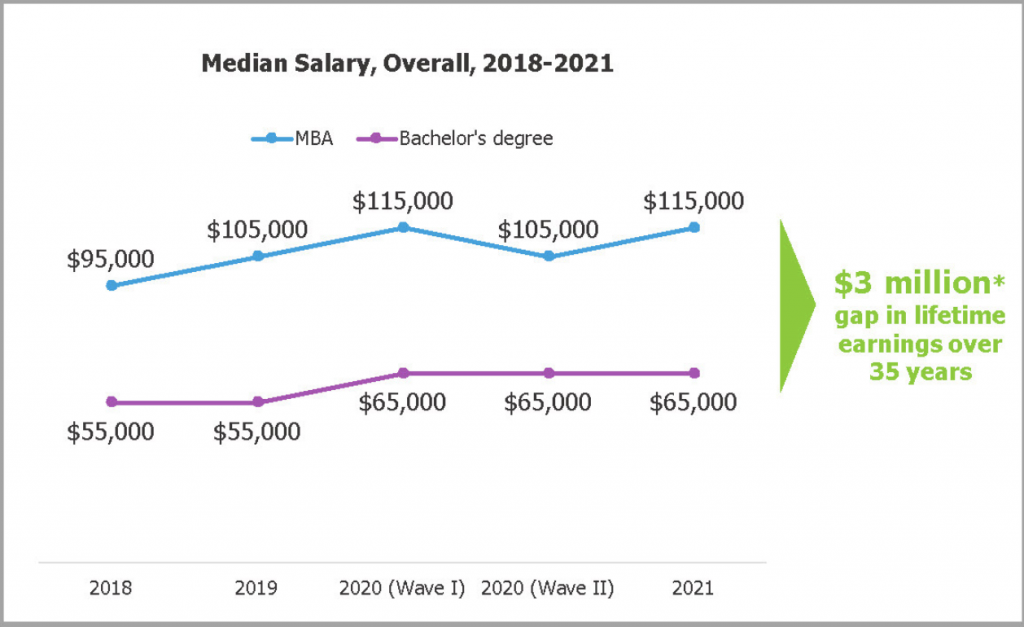 Average salary for MBA and Bachelor's degree holders between 2018 and 2021, GMAC, 2021.